Multi-media
eye-catcher
Concept, design, and on-site support of the Körber Supply Chain booth at the LogiMAT trade fair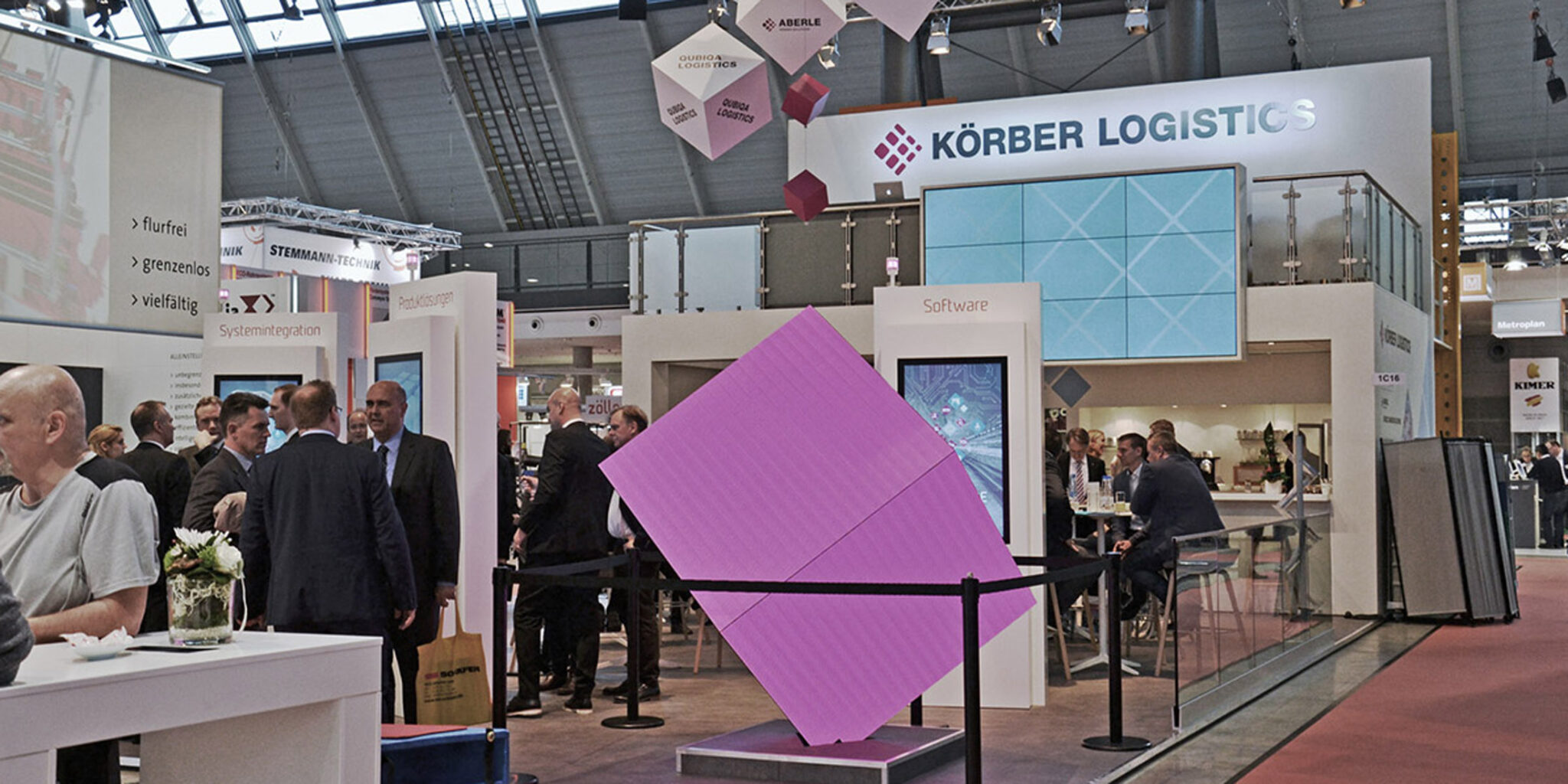 Services:
Design of trade show booths from 2017-2020
Calling for tenders, coordinating construction and final approval of trade show booth
Messaging, design and production of printed materials, artwork and displays
Conception and production of videos, content for digital 3D cube, multimedia applications
Conceptual design of exhibits
Conceptual design and production of giveaways
Event management: management of booth tech, staging and supervision of booth party
There are few events as important for an industry as the annual LogiMAT in Stuttgart. The international trade fair for intralogistics solutions and process management is the ultimate place to be when it comes to distribution centers, warehouse installations, automation, software, and hardware of all kinds. For Körber Supply Chain (formerly Körber Logistics Systems), a Business Area of Körber Group and a market-leading provider of fully integrated applications for optimizing complex logistics processes, the Stuttgart trade fair is the preeminent platform for effective corporate communications in Europe. True to form, their trade show booth is redesigned each year.
The Project
DIE WORTWERKSTATT: Making logistics shine bright
The main tasks for Körber Supply Chain's LogiMAT trade fair booth are as such: use digital means of display, present innovations, and new products in an exciting way, create an attractive space for expert talks and in-depth discussions, set up an inviting selection of catering – in short, stand out amongst the crowd of other companies. For the team of DIE WORTWERKSTATT, this provided a perfect opportunity to combine all our expertise and know-how on behalf of our client and their project.
Between 2017 and 2020, we created a new look for the company's stand in Hall 1 each year, designed a two-story booth architecture and managed its construction, developed messaging, exhibits and design, produced graphs, images, and displays. DIE WORTWERKSTATT provided films, multimedia applications, the digital display feed for a three-dimensional video cube and an oversized OLED screen, brochures, leaflets, and giveaways.
One exhibit in 2019 excited particular notice: a giant Lego model detailing a warehouse installation – a Layer Picker Solution – by Körber Supply Chain. We co-created the concept, coordinated the manufacturing of the model in Denmark, supervised the shipping (in customized boxes) as well as final assembly.
It is almost just a side note that finally, we provided management on-site in Stuttgart and also took over numerous administrative tasks, including staging a big party at the booth.