Round rubber –
performance made
Public relations and newsletter editing for motorcycle tire brands Pirelli and Metzeler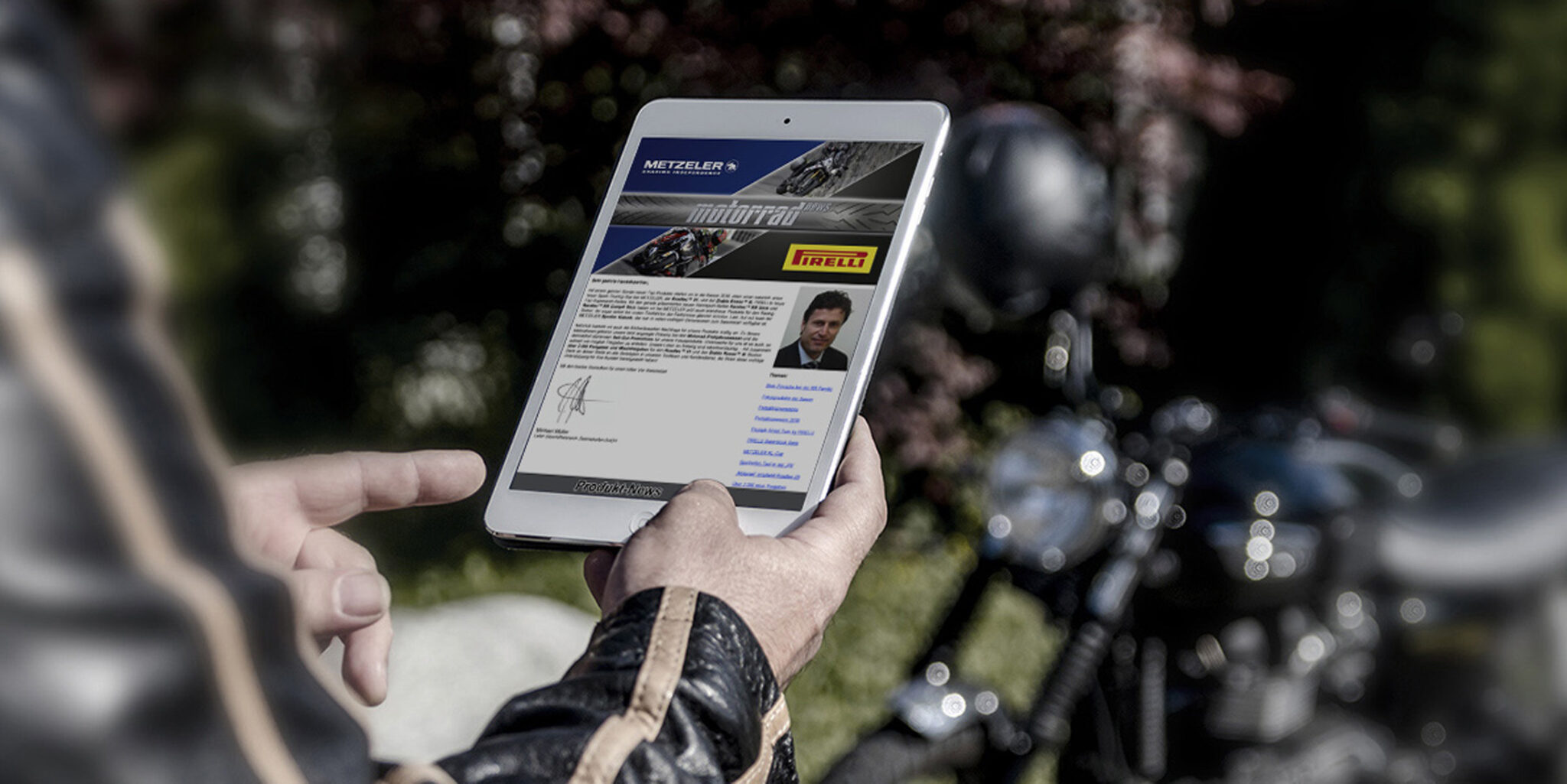 Our Services:
Researching, writing and dispatching press releases
Creating and distributing newsletters for sales partners and members of the Metzeler Club.
Translating technically complex editorial copy for product communication
Adapting German editorial copy of Metzeler's "Table Talk" show on YouTube and translating them into English subtitles.
Whether it's a 200hp superbike or a 50cc scooter for the shopping trip, no two-wheeled vehicle is complete without them. The right tires are an essential part of a fun and safe drive! The product portfolio offered by the two internationally renowned brands Pirelli and Metzeler is accordingly broad, ranging from racing slicks with maximum grip to all-round models for everyday use to sturdy studded tires. It takes a lot of professional expertise – and motorbike experience – to avoid losing track of details and to precisely position each tire model in the respective market segment with the two brands' media and the B2B partners.
The Project
Technical details – comprehensibly explained
It is exactly for this reason that ever since 2003, the WORTWERKSTATT motorcycle editors have been partnering with the motorbike tire division of Pirelli and Metzeler in all things public relations, translation and dealership communication.
Apart from creating easily comprehensible marketing copy, our expertise comes especially into play once the finer points of tire technology need to be prepared for the trade press – as often even small variations in tread compounds, contours and carcass will make all the difference.
No matter if it is a short announcement about a current promotional event or a detailed product presentation covering several pages – we research, write and distribute the press releases in close coordination with our clients' marketing department.
Alongside maintaining relations with the media, we also support the tire experts with two newsletters: one for the sales partners in Germany and Austria and one for members of the Metzeler Club. Our task here is to present current topics in a way that is tailored to the target group, layout said topics in the mailing tool and distribute them. Last, but not least, we are also actively involved in the new YouTube video format "Metzeler Table Talk" and make sure that interviews, held in German, are transcribed and translated into timecode-accurate English subtitles.
"DIE WORTWERKSTATT has supported us for many years with an excellent knowledge of the market as well as a high degree of skill and reliability. Not least due to the great trust and a great partner-like project implementation, DIE WORTWERKSTATT is exactly the right match for us on the Metzeler and Pirelli team when it comes to PR and communication."
Frank Facher
Head of Marketing DACH & Benelux, Metzeler and Pirelli Motorcycle Tires