Corporate Publishing
for internal and
external channels
Editorial support for the ZF Friedrichshafen AG corporate magazine "vision" and employee newspaper "we>move"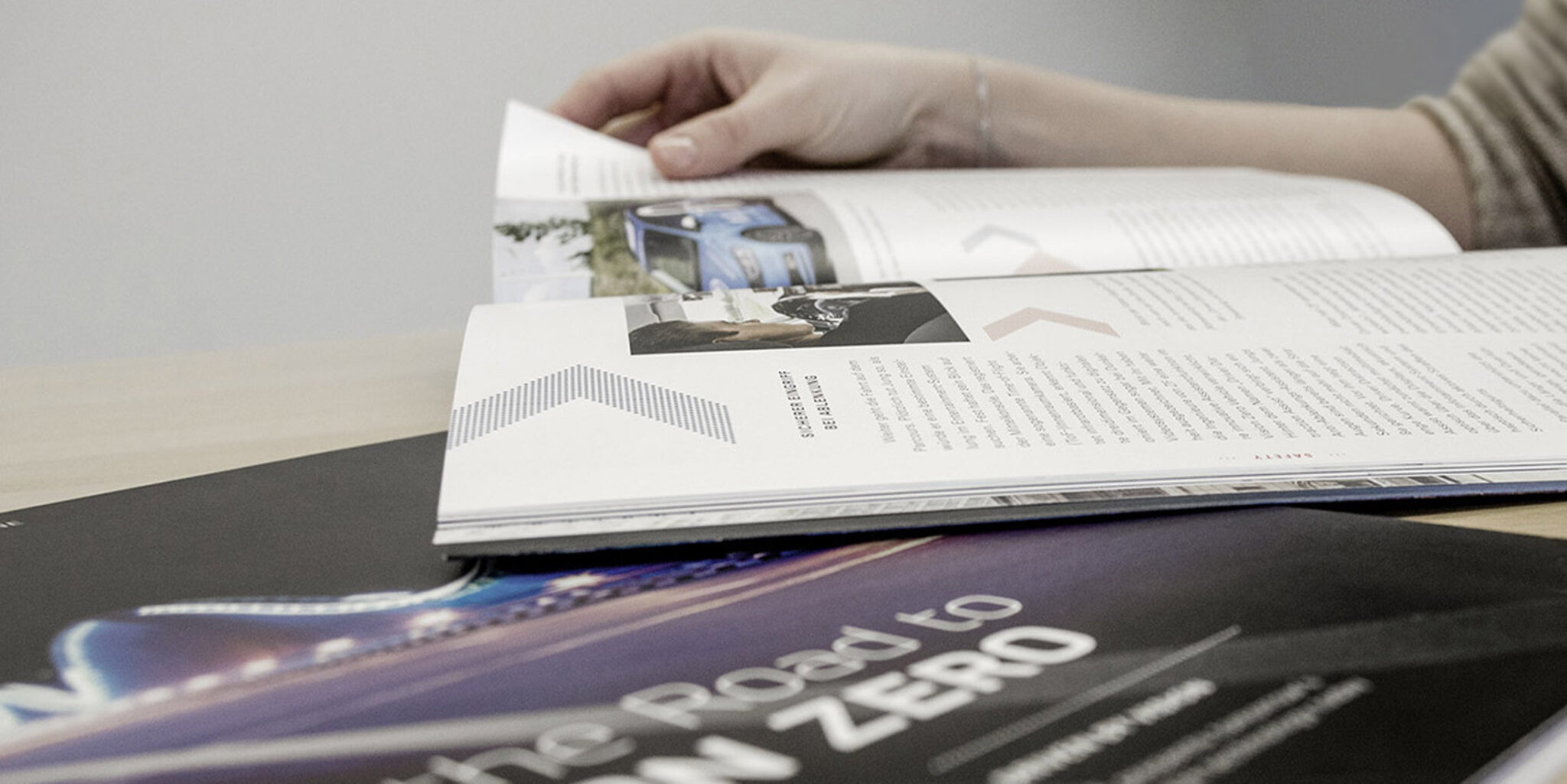 Services:
Topic planning, research, and editorial contributions for print and online version of the corporate magazine "vision"
Topic planning, research, and editorial contributions for the employee newspaper "we>move"
Conception of agenda section for "we>move"
Editor-in-chief role and layout for seven dedicated regional editions of "we>move"
With some 160,000 employees worldwide, products for cars, commercial vehicles, and industrial applications, and a technology portfolio that covers everything from conventional drives to electric mobility, autonomous driving, connected systems, and integrated safety, there is no shortage of topics at ZF Friedrichshafen AG.
For this reason, the group relied on two central company media to place its messages in the proper context. With the corporate magazine "vision" (and its predecessor "drive"), ZF kept external target groups up to date on current innovations and trends in the world of mobility. Internally, the employee quarterly "we>move" provided info on in-house news and developments and let the workforce have a voice.
The Project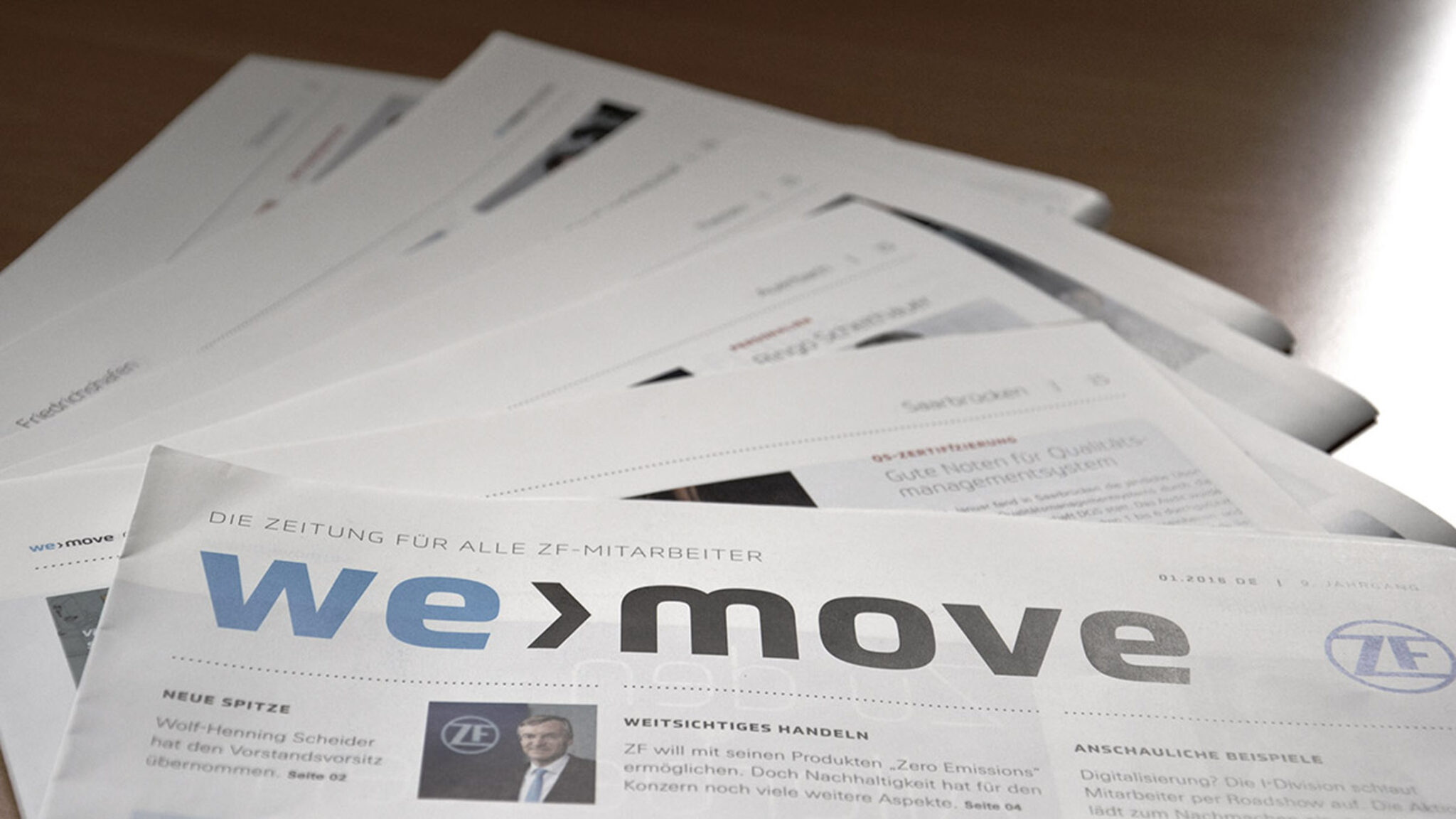 DIE WORTWERKSTATT creates corresponding content
As a long-standing partner of ZF, it went without saying that DIE WORTWERKSTATT played a major role in both media until they were discontinued. After all, finding the right angle for complex topics and writing engaging yet technically accurate articles is daily bread for a content agency with a penchant for technology and the automotive industry.
We supported every "vision" and every "we>move" from editorial planning to final editing. With two issues of the customer magazine and four issues of the employee newspaper per year, the communication calendar was tightly scheduled. Each "vision" dealt with a mobility trend shaped considerably by ZF innovations. We assisted in finding topics and planning pages, and then plunged into research – gladly also for some on-site reporting. For "we>move," we also regularly designed the central "agenda section." Furthermore, we put the employees' perspective front and center in our articles and interviews.
An employee newspaper for every location
There is no question about it: major innovations and trends also play an important role in internal communications – after all, employees want to know where "their" company is headed. In their daily work, however, employees often focus on completely different questions: How is the canteen remodeling coming along? How did our team do at the company run? And what does the production team actually have to say about the newly introduced proposal for improvement? Because employees wanted to find out what was happening at their own plant, "we>move" featured dedicated regional pages for each of the seven major German ZF locations. DIE WORTWERKSTATT was responsible for the editorial management of these location "books." In this role, we coordinated topic planning with the local contacts in consultation with group headquarters, collected, wrote, and edited articles, created graphics and also took care of the layout of the regional pages.